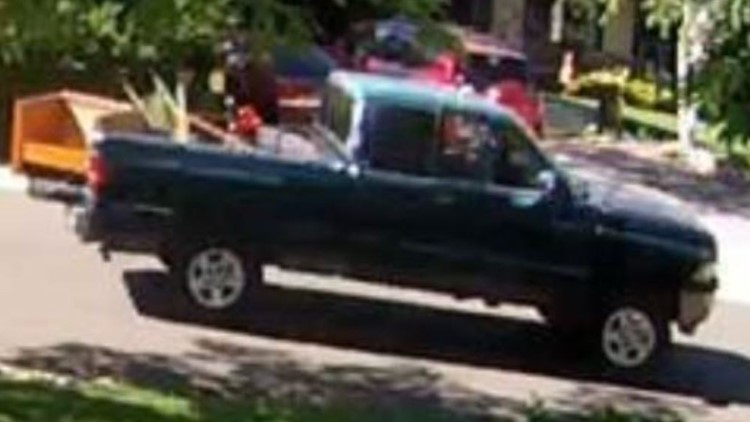 Police have identified a person of interest in the robbery, in which the woman was briefly dragged when she reached into the suspect's truck as he pulled away.
WESTMINSTER, Colo. — Police have identified a person of interest in the case of a woman who was knocked unconscious while trying to stop a man who had robbed her and her husband while they held a yard sale Saturday morning.
According to the Westminster Police Department (WPD), officers responded to a disturbance about 9:15 a.m. in the 4700 block of West 102nd Avenue.
WPD said officers learned that a couple in their mid-70s were having a yard sale when the woman noticed someone had stolen their bag of money.
The woman confronted the suspect as he got into his truck, according to police, and she reached inside the truck as he pulled away. She was dragged a short distance before falling off, WPD said, and lost consciousness.
RELATED: Denver Police searching for suspects in assault, robbery of 71-year-old man
She regained consciousness at the scene and was taken to the hospital to be checked out, according to police. Her husband and son joined her there while officers packed up the yard sale and secured the house.
On Sunday, WPD said they have identified a person of interest in the case and that the investigation was ongoing.
The suspect is described as a Hispanic or Middle Eastern man between 40 and 60 years old. He is 5 feet 10 to 6 feet tall and weighs between 180 and 200 pounds, police said.
RELATED: Sketch released of suspect wanted for unprovoked assault of 87-year-old woman
The vehicle he was driving is described as an older dark green Dodge Ram pickup with a Colorado license plate with a green background, WPD said. The first two digits on the plate are "IB" or "18," according to police.
The truck was last seen heading south on Wolff Street from 102nd Avenue, police said.
Anyone who has information or can identify the suspect or the truck is asked to call WPD at 303-658-4360 and refer to case number 2021-07252.
SUGGESTED VIDEOS: Latest from 9NEWS